I'm hard to roll over, but Crimson Trace did it. I get it now, I understand. There was no way I could've shot the Crimson Trace M3GI (Midnight 3 Gun Invitational) as well as I did without lasers on my rifle and pistol. I particularly never did like increasing the size of the grip on my pistol by installing a laser. Gaston Glock exhaustively researched his original model 17 design to have the optimum grip size and angle for the average hand, and I've gotten intimate with several of these superb pistols since the late 80s. But again, I could not have shot the course as well without a laser. My Glock 19 with the Lightguard and Lasergrip in their custom made DeSantis Speed Scabbard holster is now my new BBQ rig. All targets in the course were shootable with a 100 lumen light, even at 100 yards. That's much farther than I'll need to defend my grill. The minor inconvenience of having a slightly larger grip was inconsequential, and very secondary. The speed in which you can draw this plastic pistol and not having to worry about activating it is genius. The light and laser are on immediately, and with a 32 round Glock 18 mag, I skipped having to reload throughout several courses of fire because of the super high capacity of that old mag.
All 9 stages were shot at night. My group, group 9, started on the 9th stage. The stage was called, "Kill The Engine." It started with an FN SCAR on auto with one of the new Redfield Counterstrike with red/green dot and laser. At least two shots on each target. Scoring was one A zone, or two anywhere on the target. Easy and close. Then an FN 40mm grenade launcher with laser. The target was a car about 80 yards away for a 5 second bonus. I hit it. Then a series of 11 paper targets, 8 clay targets, and 8 plates. Fun.
Then on to stage one, which OpticsPlanet sponsored. We started prone with a supressed PWS Mk 118 with a FLIR thermal imaging scope. One shot on each plate at about 200 yards, then run to 8 clays with shotgun, and 12 plates which could be shot with your choice of your shotgun or your pistol. I reloaded and shot my 1100 for the first 6 plates because they were pretty small, then went to finish the last 6 steels after dumping the scatter gun.
Throughout the competition my 40 year old Remington kept locking up. Upon retrospect, perhaps due to a weak follower spring. Haven't checked it out yet. I never missed with it, not once, but it cost me dear time on almost every stage. It has always been a great gun, and I shoot it really well, but this time I asked this gun that my dad gave me 40 years ago to do more than ever before. Guns get old just like people, and they wear. Had to cut my trigger finger the night before I left. Didn't make me suck any worse.
Stage 2 was "A Little To The Left", with a Colt CRP18, your pistol and shotgun. 4 flash targets, 23 plates, 8 clays, and 4 paper.
Stage 3 was "Touch 'Em All", with 2 BCC plates, 8 plates, and 12 papers. This was a fun one with some running around a baseball diamond in any direction you wanted, as long as all targets were engaged.
Stage 4 was "Barrel Racing", with 4 BCCs, 8 clays, and 6 papers.
Stage 5 was "Cleaning House". This was a shoot house with 8 clays and 10 papers. Start with heels in the doorway with rifle at port arms. Run through the house, hose paper, dump rifle, grab shotgun and blast 8 clays through a doorway and hole in the wall. My 1100 ran good, but I shot the left side clays first, and there was about a 10 mile an hour wind from left to right. The impact from the pellets kicked up enough dust that it obscured my view of the center targets. I switched to the right side and worked my way back, but lost time finding the remaining clays. Mental error. I should've known to shoot against the wind, not with it. The dust in the high desert in Oregon is as fine as talc and permeates everything.
Stage 6 was entitled, "Noisy Neighbors", and required the use of two bridged PVS 14s with a Rhino helmet. The stage gun was a PWS MK110, non supressed SBR and noisy as hell indoors. The stage started with a supressed Glock 17 with an IR laser, then dumped in exchange for the rifle. 6 shots with the pistol on paper, and 20 with the rifle. Good fun, indeed! We lost a man here due to DQ. He broke the 180 degree plane badly. He passed up a target, and instead of backing up, he shot past 180. The shoot was halted, it was detemined to be factual, and he was removed from further competition.
We lost several folks along the way due to DQ or DNF. We are media people, after all, and not pros.
Stage 7 was "The Saw Mill", and I was first shooter. We started with feet on the floorboard and hands on a roll bar in a wicked military type 4wd buggy with a mounted Mk 46 SAW variant machine gun mounted on a swinging tubular door frame. The gun had a night vision scope mounted on it, and its weight was fully supported. When ready, shooter engaged two BCC targets at maybe 100 yards. This was a no penalty part of the stage, just fun. When ready again, shooter either engaged 4 papers, one partially hidden, with a loaded and holstered gun, or ran to middle stage to grab shotgun or grounded pistol. I used my holstered 19 and put two shots on each, or tried to. I missed one shot on the partially hidden target, but my other shot was in the head, so it counted as full score. Then ran to the other side of the stage and put two each on four more. Then ground gun, grab shotgun, and bust 4 clays on each side of the course. I ran this one pretty well.
The last stage we shot, stage 8, was called "Boots On The Ground". Probably my favorite because of lots of shots and some running. We started with a loaded shotgun and port arms, and broke 3 clays on the left side, and 3 on the right. My remaining two shells went into poppers in front of me set up like bowling pins. Ground shotgun, grab pistol. There were 9 pepper poppers and 6 US poppers. I rang them down in a good order, grounded pistol and ran a good distance around a hill to another part of the course where I engaged 11 papers with two each. Lots of spent shells on this one. Fun.
The first day of shooting was a long one, well over 24 hours. You have to be very careful when you're tired and punchy. That's when mistakes happen. Especially with firearms. A long, tiring day for sure.
The first day, Videographer Dave forgot a jacket. From sweating in the day in the low 90s to just above 50 at night. Dave was frozen like a Montana cowboy, and never said a word. Pretty tough of him to stick it out so solemnly. We shot 4 stages the first night, and 5 the next.
Second day I shot a side match with a PWS 7" Diablo. Kelly and videographer Dave did, too.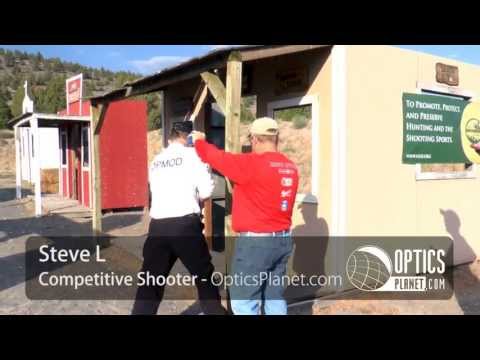 OpticsPlanet is the number one dealer of Crimson Trace products in the world, and this was acknowleged by CTC before the dinner before the shoot. I made a two minute speech about who and what we are, as did the other sponsors.
We gave away OPMOD PAC bags to every competitor. I got a lot of handshakes and thank yous for them. Many used them to carry ammo and gear, some for iPads, some for food and drink. One of the sponsors, Danner, gave all competitors boots. This was my first pair of Danner boots, and won't be the last. The warranty even states that "Our Danner craftsmen can provide everything from simple part replacement to major overhauls on a stitchdown constructed Danner boot…." No glued on soles here. I started wearing them not long after I got them, and had no issue breaking them in. Excellent quality boots.
I used Hoppes M-Pro 7 fluids for cleaning and lubrication, and brought a small bottle of their CLP with me. The guns were still pretty well lubricated when I finished, and all I did between days was a quick wipe down and relube with M-Pro 7 CLP. I love not sniffing harsh chemicals in my gun room and melting my fingernails off with cleaning fluids. Once I tried the biodegradable cleaners and lubes, I was converted to using it on most of my guns. Try it.
My Vortex Razor Gen II scope simply is the best available. Awesome product, and the mount returned to absolute zero in all my testing. Superb. I used our OPMOD shooting glasses, and the antireflective coating really did well at night with lasers and lights. The intense light seemed to bloom less with this coating than with other clear glasses.
My new carry gun is the rig I shot with. They really forced themselves into my psyche in a good way. I didn't use my iron sights once on my pistol.
Jerks at American Airlines charged me $260.00 for two bags overweight. TSA left ammo laying out in my bag, not bothering to put it away like I had it. When I walked up with my Storm 3300 case, the attendants asked coldly, "What's in the case, sir?" Everyone in line lifted their heads like meerkats or prairie dogs on alert. I muttered, "Firearms". and of course they called a supervisor to make sure I wasn't a terrorist, although O'Hare always does a good job of making me feel like that.
A special and heartfelt thank you goes out to Kent and Lew and Rosanne, and all the Crimson Trace folks for putting on such an event. The logistics alone must've been daunting. The ROs were some of the most experienced in the country. Thank you so much, all of you. What a company, and what professionals to be associated with.
My Shirley and the kids were glad to see me, and I was glad to be back. My Shirley is learning to ride and just got a new pink helmet.