We take customer polls and reviews and present certificates to vendors for certain winning categories and products. In the 2012 Leupold catalog on page 81 you'll see a thumbnail copy of our Brilliance Award that we presented Leupold for the "Best Premium Tactical Riflescope", which was the Mark 4 4.5-14×50 ER/T M5 Front Focal. It's great to know that they respect us and our award so much that they published it in their catalog. It's fun knowing that many retail locations that sell Leupold products give out their catalogs, and customers will see that OpticsPlanet is the place to buy them.
Continuing from SHOT Show 2012, Part One, with more memorable new products.
Enter Pelican, with the most exciting two new products for notepads and laptops in existence. The Travel Gear series. The U (Urban) 100 and 140 are soft backpacks that incorporate a hard shell inside that will accommodate a reader or tablet, or in the case of the U140 model, a full size laptop. Waterproof and durable with the very best thought out features possible. It will be hard to improve on these. Nobody make better travel gear than Pelican.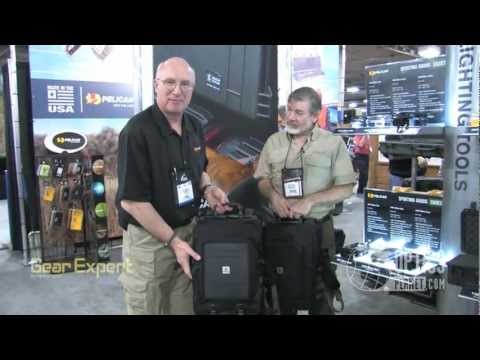 Swarovski, typical of the cutting edge, spare no expense methodology they employ, showcased their amazing EL Range rangefinding binocular, and the CL and EL binoculars. The trend is to go smaller and lighter with glasses in the field, and these CLs and ELs fit the bill nicely. The CL and EL 8×30 and 10×30 models may change your thinking about what to bring in the field. I mostly carry a full size binocular and a pocket sized, but with compact glasses of this size, you may rethink and carry only the one. Swarovski binoculars and riflescopes offer ridiculously bright images that nobody in the industry can match. The new EL Range binocular incorporates a laser rangefinder and binocular into one superb unit that can reach up to 1600 yards on a reflective target. Out of the few others of this ilk on the market, none are this lively and compact in your hand. Home run for Swarovski again. And kudos for their new customer-orderable riflescope turrets matched to your ballistics. Just give them a call to order one or more for your selected new Swarovski riflescope.
Friend and hunting partner Iain Harrison showed 2012 Crimson Trace products, and the innovative company had loads of new releases this year. You may have seen him on the first season of TV's "Top Shot", which he won. He is not a poseur. Crimson Trace is the maker of the superb LaserGrips, and the Lightguard series of pistol lights.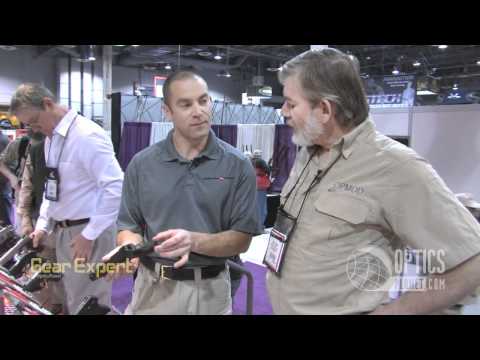 Champion/ATK is offering a great new bipod with a horizontal swivel feature I've never seen before. Not just a pan, but a true horizontal swivel. I can't wait to get one. They didn't have one out of the package, so I opened one. I wasn't put together correctly, and while fixing it I opened up my thumb pretty nicely. My black pants didn't show blood, and my field expedient fix was crazy glue (I carry it everywhere), a plastic package from my Howard Leight foam earplugs (I carry them everywhere), and a piece of Gorilla Tape (I carry it everywhere).
The coolest overall product I saw at the show was the new Merkel Helix. It has a straight pull bolt like a Blaser, but it's twice as quick. What a delicious looking gun. Interchangeable calibers with a barrel, bolt head and mag change. Out of my price range, but so are old Corvettes and supermodels (besides My Shirley). I can still dream.
Marlin had a 336Y (Youth) that looked great.
The high grade 20 gauge Parker at Remington would make you cry. Pictures don't do it justice.
Lots of friends and hunting partners were there. I had a plenty of laughs with predator hunter and cowboy Byron South in Texas and Alaska.
Armasight had a new PVS 14 attachment I tested on a favorite .22 magnum. It worked superbly.
Knives are coming to OpticsPlanet, and there's a lot to choose from. Keep tuned. Zombies were everywhere at the show. On sights, targets, clothing, guns, and everything else you could imagine.Leupold Zombie scope. Note the brain image on inside lens cap. Head shots only!
More OPMOD products are here now, and many more in the pipeline. Buy the OPMOD Professional Range Bag, you will love it.