"Friends of the family" were here with some guns and some money. My job was to suggest and set up the rifles for their intended uses. Sometimes these guns get pretty outrageous.
A man I'll call "Z" came in with his full-blown JP custom. He's going with his two friends to shoot prairie dogs next month. They have three identical JP customs. No expense was spared on the guns, but they wanted to take it a bit easier on the optics. My first choice was the benchmark for dogs, a Leupold VX-3 6.5-20×40 Long Range for bolt guns, and the same with a 50mm objective for ARs. It was a bit more than they wanted to spend. For similar performance in a lesser-priced optic, I chose the excellent Nikon Monarch 3 6-24×50 with the superb BDC reticle. Great choice. They're going to use these fine machines for hogs, also, and for that purpose they each purchased OPMOD EOTech HHS 1 holographic sights with the G33 magnifier. I don't usually prefer QD mounts, but since they were going to swap optics, I got them each a Burris PEPR mount with the QD option. It's one of the best and most reasonably priced mounts on the market, and it comes with your choice of plain or pic rail tops. The mount adjustments have a clever capture pin to prevent movement and loosening when installed. Here's one of the completed JP rifles below, with ring screws all torqued to about 25 inch pounds with a great Wheeler FAT wrench. These guns are exquisite.
I've had a few other guns for a friend named MO for a while, and I just completed two of them. The first is an FN SCAR heavy.308 that he'll use for hogs and other purposes. I wanted to put on an S&B Zenith 1.5-6×42 with Flashdot for a mere $2400.00, but he choked on the price. It's a lot even for a financially vested individual. Second choice was what I have on an AR, the excellent Vortex Razor HD Gen II 1-6×24, but that was still a bit much, and besides, he really wanted to use a simple red dot instead. So again, enter the OPMOD HHS-1. He wanted to use night vision with this gun, so we also ordered an OPMOD PVS-14 and my favorite night vision QD mount from Night Optics, the WM-D14. For lasers, the superb Steiner/Laser Devices DBAL-I2 with IR laser and visible green laser. Remote pressure pad included. For a white light, I like the new InForce WMLx 500 lumen weapon light. It's easily detachable, and has momentary and constant-on functions. It also has a lockout bar to prevent inadvertent activation. We strapped it all together with a tough and clever SCAR-specific Specter Gear 2 point tactical sling. This gun is just sick.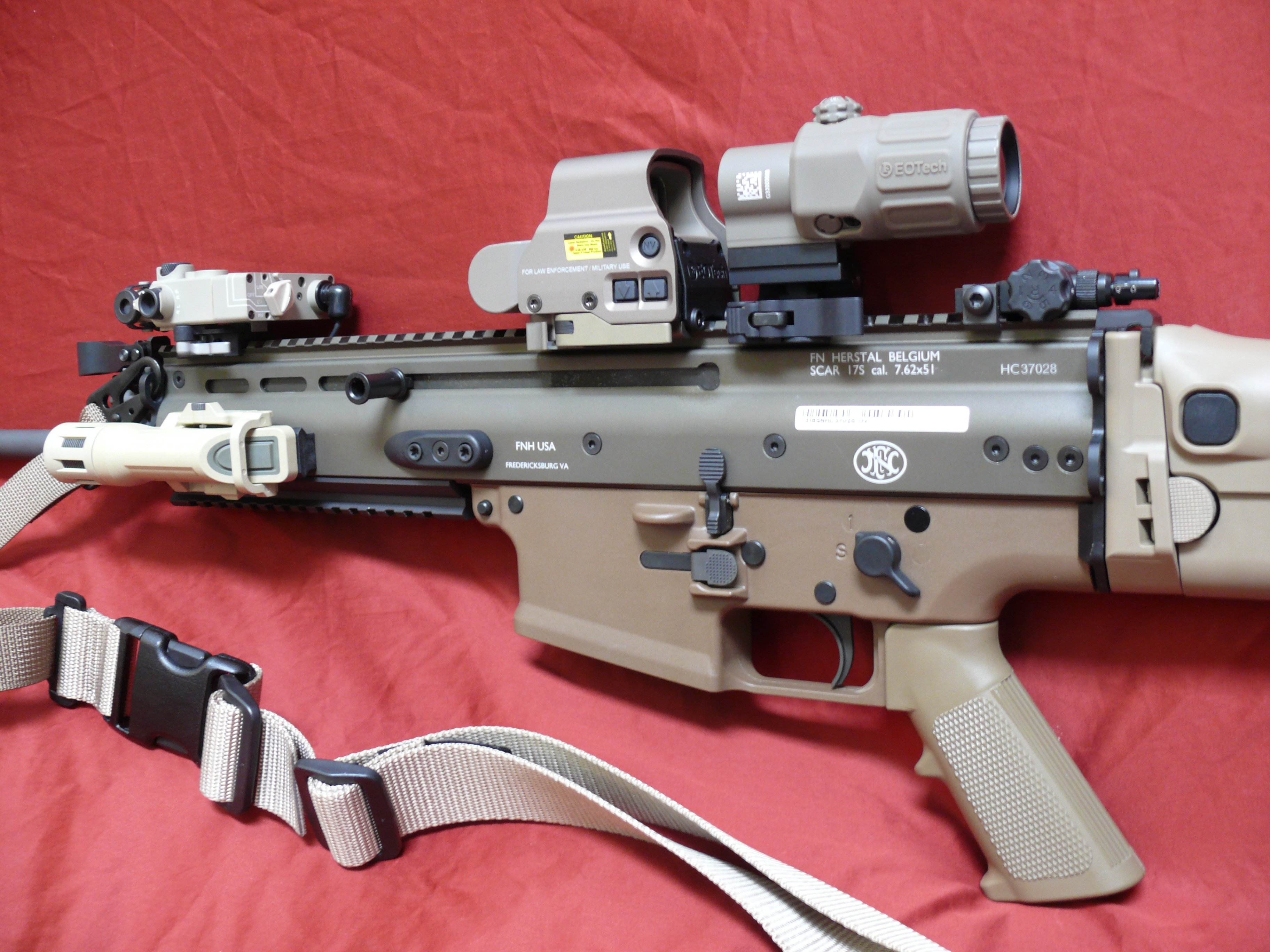 The last one I finished is a favorite. An H&K 416D .22 lr with a custom stock and phony can. My choice to scope this great little carbine was not a rimfire scope, but a Nikon M-223 1.5-6×24 Illuminated. This superb scope was my choice for OpticsPlanet's product of the year. At low power, evil parallax has nowhere to go and isn't an issue. You have to use this scope to believe it. It has a giant field of view with great optics, and the illumination is outstanding, as are the digital intensity controls for it. It's also in a Burris PEPR mount, but the non-QD version. On top is the precise little Lasermax Unimax Rifle Value Kit. This gem of a blinking green laser comes with accessories to mount it to a rifle or pistol, and has an included remote pressure pad and handguard covers to route the wire. Really a smart and well-thought out product. On the left side of the gun is my choice of hunting torches, the Streamlight Game Spotter. This light and its color combine to throw light well over 100 yards, and is a viable alternative to using night vision. It also comes with a remote, but I opted not to use it on this gun. When sighted in, the green laser and red illuminated dot in the reticle are picture perfect and super user-friendly. What a great little set up!
It's satisfying that so many people appreciate my suggestions and let me spend their money, and it's nice to have tools and a place to assemble guns at work. My tool boxes in my office are full, and projects keep coming! I enjoy sharing with you the hobby I get paid to do.
Hope you are all well!